Sony and Bell bring next-generation Xperia® Z5 smartphone to Canada
Oct 20, 2015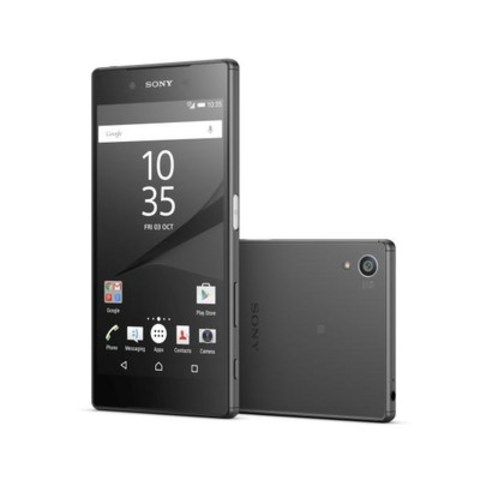 The Xperia Z5, with Sony's best smartphone camera yet, launches October 29 exclusively with Bell Mobility
MONTRÉAL & TORONTO, Oct. 20, 2015 /CNW/ - Sony Mobile Communications ("Sony Mobile") and Bell today announced the exclusive launch of the next-generation Sony Xperia Z5 smartphone on Canada's largest 4G LTE network. Featuring advanced Sony camera technology and powerful entertainment integration, the Xperia Z5 will be available across Canada starting October 29.
"Smartphones have become an extension of people's lives and we are excited to share the latest device in the Xperia series with Canadians," said Ravi Nookala, President of North America, Sony Mobile Communications. "Smartphone users create, share and enjoy most of their content on the go and with Sony's latest innovations in camera, design and entertainment integration, we set out to make the Xperia Z5 the best possible lifestyle platform available."
"Sony Xperia Z5 is loaded with an array of advanced features that enable Bell Mobility customers to take full advantage of Canada'slargest LTE network," said Blaik Kirby, President of Bell Mobility. "Committed to offering Canadians the best wireless experience, Bell is thrilled to add the exclusive Xperia Z5 to our unmatched portfolio of world-leading mobile devices."
A mobile camera experience unlike any other
Featuring the next-generation 23MP Exmor RSTM mobile sensor, 5x Clear Image Zoom and Sony's image processing, the Xperia Z5 offers Sony's best smartphone camera experience delivering clear and vivid images every time. Plus, customers will never miss a moment with Sony's ultra fast hybrid autofocus – at 0.031 seconds it is faster than the blink of a human eye.
With Xperia Z5 customers can also record video more smoothly in bumpy situations thanks to improvements in Sony's SteadyShotTMtechnology with Intelligent Active Mode.
Designed for life
Designed at Sony's leading Creative Center studios, Xperia Z5 is built with a slim continuous plate form, a metal frame and frosted glass back for a striking look and feel. New features include a cap-less USB for easy charging and an integrated fingerprint sensor power button makes the device personal, protected and quickly accessible.
Powerful performance that meets demands
Xperia Z5 is powered by the Qualcomm® Snapdragon™ 810, a 64 bit octa-core processor, and ultra-fast 4G LTE speeds. And powerful smartphones demand smart power management – Xperia Z5 is equipped with up to two-days2 of battery life and power management functionality like Battery STAMINA mode that puts customers in control of battery life.
A flagship series powered by a robust entertainment ecosystem
Sony's expertise in audio technologies enables customers experience sound with incredible clarity on Xperia Z5. High-Res Audio delivers accurate sound recording at a near studio quality and DSEE HXTM technology enhances MP3, AAC or music streaming tracks to near High-Res Audio quality.
Customers can also keep playing their favourite PlayStation®4 (PS4™) games wherever they are in the home with PS4 Remote Play3. Simply connect the Xperia Z5 to a PS4 via home Wi-Fi and use the DUALSHOCK®4 Wireless Controller and never miss a minute of the action.
Key features – Xperia Z5
Next-generation smartphone camera with a brand new 23MP Exmor RS mobile sensor and ultra-fast hybrid autofocus
Up to 2-day battery life and battery STAMINA mode
Integrated fingerprint sensor power button
Waterproof design with an IP68 rating 4
NFC compatibility to connect devices and share with One-touch enabled products such as headphones, TVs and Sony SmartWear
4G LTE wireless broadband speeds on

Canada's

largest LTE network
The Sony Xperia Z5 in white and graphite black will be available exclusively from Bell Mobility on October 29, 2015. To learn more about Xperia Z5, please visit Bell.ca/XperiaZ5 and http://www.sonymobile.com/ca-en/products/phones/xperia-z5/.
About Sony Mobile Communications
Sony Mobile Communications is a subsidiary of Tokyo-based Sony Corporation, a leading global innovator of audio, video, game, communications, key device and information technology products for both the consumer and professional markets. With its music, pictures, computer entertainment and online businesses, Sony is uniquely positioned to be the leading electronics and entertainment company in the world. Through its Xperia® smartphone and tablet portfolio, as well as innovative SmartWear products, Sony Mobile Communications delivers the best of Sony technology, premium content and services, and easy connectivity to Sony's world of networked entertainment experiences. For more information: www.sonymobile.com
About Bell
Bell is Canada's largest communications company, providing consumers and business customers with wireless, TV, Internet, home phone and business communications services. Bell Media is Canada's premier multimedia company with leading assets in television, radio, out of home, and digital media. Bell is wholly owned by Montréal's BCE Inc. (TSX, NYSE: BCE). For more information, please visit Bell.ca.
The Bell Let's Talk initiative promotes Canadian mental health with national awareness and anti-stigma campaigns, like Clara's Big Ride for Bell Let's Talk and Bell Let's Talk Day, and significant Bell funding of community care and access, research, and workplace initiatives. On September 22, 2015, Bell announced the extension of Bell Let's Talk for a further 5 years and an increase in total funding commitment for the country's mental health to at least $100 million. To learn more, please visit Bell.ca/LetsTalk.
Legal
Facts and features may vary depending on local variant.
Operational times are affected by network preferences, type of SIM card, connected accessories and various activities e.g. playing games. Kit contents and colour options may differ from market to market. The full range of accessories may not be available in every market.
Icons displayed are for illustrative purposes only. The homescreen may appear different in your product. Some features may not be available in your country or area.
"SONY" a registered trademark of Sony Corporation. "Xperia" is a trademark or registered trademark of Sony Mobile Communications Inc. All other trademarks or registered trademarks are the property of their respective owners. Additional information regarding trademarks may be located on our website at: www.sonymobile.com/global-en/legal/trademarks-and-copyright
Qualcomm and Snapdragon are trademarks of Qualcomm Incorporated, registered in the United States and other countries. Other product and brand names may be registered trademarks of their respective owners.
_________________________
1 In compliance with CIPA guidelines (http://www.cipa.jp/index_e.html)
2 Battery life has been measured against Sony Mobile Communications AB's smartphone usage profile, defined in September 2014 to represent the typical smartphone user's active condition, including but not limited to a range of usage scenarios (calling, texting, web browsing, social networking, game playing, music listening, picture taking, picture browsing, online video watching, video recording and playback).
3 Functionality available on select Sony Xperia™ Z series devices. PS4 System, DUALSHOCK®4, Sony Entertainment Network and high speed internet connection required. Some games may not support this feature.

4 The Xperia® Z5 is waterproof and protected against dust, so don't worry if you get caught in the rain or want to wash off dirt under a tap, but remember: all ports and attached covers should be firmly closed. You should not: put the device completely underwater; or expose it to seawater, salt water, chlorinated water or liquids such as drinks. Abuse and improper use of device will invalidate warranty. The device has Ingress Protection rating IP65/68. For more info see www.sonymobile.com/waterproof. Note the Xperia has a capless USB port to connect and charge. The USB port needs to be completely dry before charging.
SOURCE Bell Canada
Image with caption: "Xperia Z5 (CNW Group/Sony Mobile Communications)". Image available at:http://photos.newswire.ca/images/download/20151020_C7674_PHOTO_EN_524720.jpg
For further information: Kristen Schaffrath, NATIONAL Public Relations for Sony Mobile Communications in Canada, Tel: 416-848-1704, kschaffrath@national.ca; Jason Laszlo, Bell, 1 855-614-6602, jason.laszlo@bell.ca, @Bell_News